Double Loop screw coaxial heat exchanger
¡¡¡¡
¡¡¡¡Based on the SCE standard, our company designs the double FI loop heat exchanger, which has the advantage of SCE standard. It is stable in quality and easy to use.

¡¡¡¡Meanwhile, we can offer special design of the multi FI loop product upon the customer service.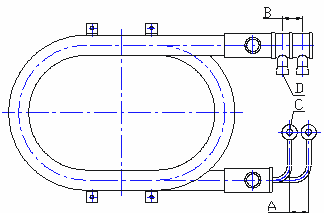 The Installation size of double loop screw coaxial heat exchanger£¨SCE05¡«63£©
SCE06D
SCE10D
SCE15D
SCE20D
SCE25D
SCE30D
SCE40D SCE45D
SCE50D SCE55D
SCE60D SCE63D
A
40
40
40
40
40
B
42
42
52
63
73
C
§¶9.52
§¶12
§¶12
§¶16
§¶19
D
§¶12
§¶16
§¶16
§¶19
§¶25
¡¡¡¡¡¡¡¡¡¡¡¡¡¡¡¡¡¡¡¡¡¡¡¡Remarks£ºFor other size, please refer to the SCE standard products.

¡¡The Installation size of screw coaxial heat exchanger£¨SCE75¡«125£©£º

| | |
| --- | --- |
| | |
| Remarks£º | 1¡¢This product is single H2O and double FI loop£» |
| | 2¡¢FI Input¦µ25£¬Output ¦µ40£¨interior dia£©£» |
| | 3¡¢The H2O input is 2 1/2" Flange£» |
| | 4¡¢The illustrated size is subjected to the size before temperature perseveration£» |
| | 5¡¢Our company reserves the right to change the above size in small scope without giving notice. |

Direction
1. The Product fix and pipe connection is indicated in the following illustration.
2. 3.0 Mpa nitrogen is blocked out in our product,p , please cut the seal before use.
3. Please don't fill the water into the front water path before filling the FI
4.

This product can not be frozen in operation.


5. Please let the water in the heat exchanger in case you leave the it unused for a long time.
6. To guarantee the good heat insulation effect, don't make the exterior temperature presevation wet.
7. Please keep the flame out from the temperature preservation in welding.
8. The two-way freon curcuit shall be in layout of inner-to-inner, outer-to-outer.
9. Before the installation, the nitrogen remained inside the inner circuit shall be released, then the outter circuit.
10.Freon shall be charged outside first, then inside or added simultaneously.